Dr. Kelly Doering and Dr. Natasha Cusack have combined dental experience of over 30 years. They love being a part of the Ionia community.
Dr. Kelly Doering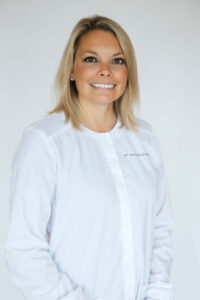 Dr. Kelly Doering is a native of South Bend, Indiana. She was inspired by her Aunt and Uncle to pursue a career in dentistry. She received her Bachelor of Science degree in General Health Sciences from Purdue University. She went on to receive her DDS degree from the University of Michigan School of Dentistry. She met her husband, Dr. Arthur Doering, while in dental school. Dr. Arthur is a native of West Michigan.
Dr. Doering began practicing in the Detroit area after graduating from dental school. She then went on to practice in the Grand Rapids area prior to making the transition to Ionia in 2017. When not practicing dentistry, she enjoys spending time in the outdoors hunting, fishing and skiing. She and her husband recently welcomed a beautiful daughter named Aspen, and she is a proud "dog mom" to her German shepherd Ace. She is an active member of the American Dental Association, Michigan Dental Association, and West Michigan Dental Society. Her favorite part of dentistry is establishing patient relationships and ensuring that their comfort is top priority.
Dr. Natasha Cusack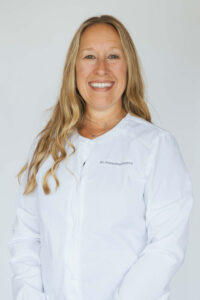 Dr. Natasha Cusack is originally from Grand Rapids, she graduated Valedictorian from Grand Rapids Central High. She graduated early honors with a Bachelors of Science, Lyman Briggs School at Michigan State University. She then received her DDS at University of Michigan School of Dentistry. For 4 ½ years she worked at a public health clinic in Grand Rapids. After moving into the area, she started as an associate with Muscott and Muscott Dental Health Center in 2006. She became partner with the Dr. Doug and Christine in 2011. She remained at the practice after the Muscotts retired.
Dr. Natasha is an active member of the Michigan Dental Association, American Dental Association, and an advisor to Heartlands Dental Health Occupations in Ionia. In the past, she was a delegate of American Association of Women Dentists. She enjoys working with patients and the students at the High School clinic. She reaches out to the schools and retirement homes to discuss the importance of good dental health.
Dr. Natasha has 3 children, a dog Spartan (of course Go State!), and lots of cows and chickens. They are actively involved in schools, sports, and church. The best moments with family are spent outside on the family farm, at the beach, or Sleeping Bear Dunes.
Dr. Cusack puts emphasis on helping individuals with limited access to dental care. She treats patients who are a part of Donated Dental Services. She wants her patients to experience the newest technology, utmost comfort, and a great relationship throughout their dental treatment!